CHAMPS Mobile
An Introduction:
CHAMPS Mobile is developed for the CMMS user in the field. It allows a user to perform common tasks, such as Timecard Entry, Work Completion, and Work Request Creation. Users with Multi-Location access privileges can operate within their current Maintenance Location, or site, as selected by the user.
The App will also give the user access to review the status and information related to equipment, parts, work order assignments, and work requests.
CHAMPS CMMS Mobile App is a cross-device app that will run on Android, iOS and Universal Windows Platform (UWP).
CHAMPS Mobile has the following modules:
Equipment
Work Order

Complete Work Order Steps

Inventory with access to on hand quantities and cost values
Work Request
Time Card -time entry
Meter readings
Physical Inventory: parts count
Admin (general settings)
Important aspects of CHAMPS Mobile are:
Internationalization
CHAMPS CMMS Mobile App will be designed and built with internationalization settings allowing to easily change languages. Internationalization will be done using Xamarin internationalization and localization foundations allowing for all resources to be changed based on language and locale (including text, images and icons) and will adapt formatting and layout to cope with different sized strings.
Generic Data Access Layer
As described in the introduction chapter, the application will be designed with a generic Data Access layer that will allow different implementations and customizations when connecting to different databases.
Dashboards
The KPIs / Statistics screen summarizes selected record counts and costs within the Equipment, Work Order, PM, and Inventory Modules.
These statistics are grouped together under Tabs, one Tab per group of dashboards. Only non-discontinued maintenance records and Active SKUs are accumulated.
Work Offline
CHAMPS Mobile will have the option to allow the user to take records offline. The user will be able to download and locally store any type of document record they choose to.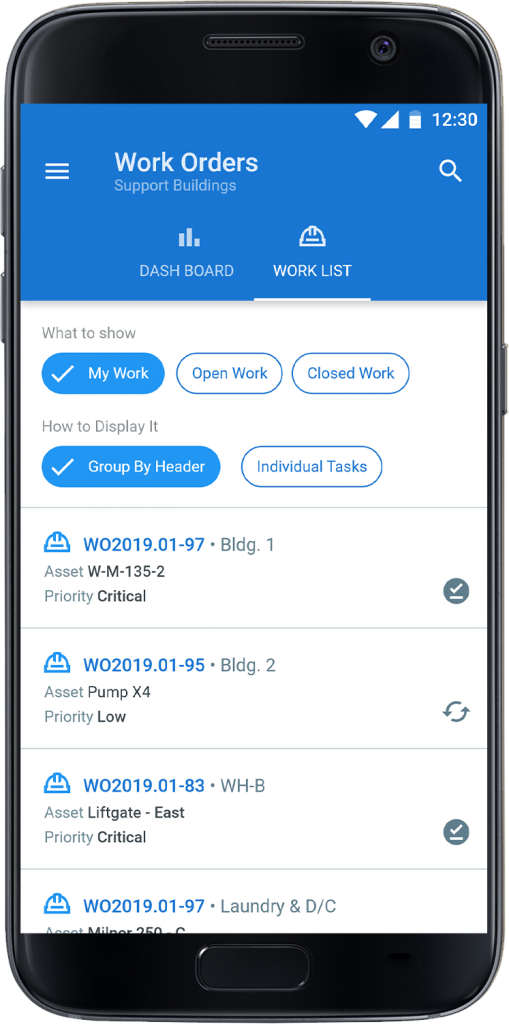 To learn more, fill out this form to download CHAMPS Mobile Whitepaper today: